Colombia: Implementing peace deal, promoting dialogue 'inextricably linked'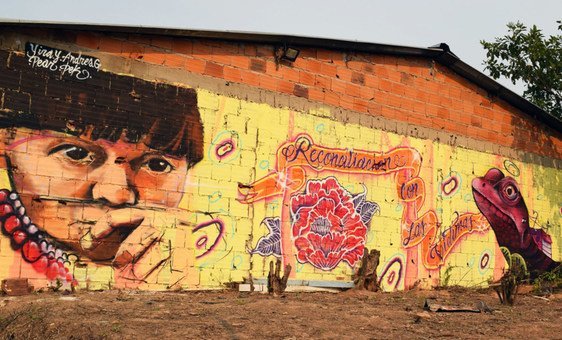 The two aims are important aspects of the Government's Total Peace Policy and have become "inextricably linked", he said. 
"It is hard to envision either fully succeeding without the other, given the realities on the ground in many of the conflict-affected areas where violence by remaining armed groups is a major obstacle to implement the country's peace agreement, and where insufficient implementation also fuels the conditions for that violence," he added. 
Mr. Massieu was presenting the latest report of the UN Verification Mission in Colombia, established in the wake of the signing of the peace agreement between the authorities and the FARC-EP militia group in 2016.  
Advancing peace
The Mission verifies the reintegration of former combatants into political, economic, and social life. 
Mr. Massieu reported that Colombian President Gustavo Petro and the ex-commander of the former FARC-EP, Rodrigo Londoño, met recently in the capital, Bogotá.  They also conducted a joint visit to an area where an illegal armed group had threatened dozens of former fighters and their families. 
He said these events "are an example of how the parties can work together to address the multiple challenges facing the process and to advance implementation". 
For the first time, the UN report on Colombia also covers matters related to the peace agreement's chapters on comprehensive rural reform and ethnic issues, in line with a Security Council resolution adopted in January.  
These provisions range from bringing much-needed infrastructure and investments to remote rural areas to redressing the specific impacts suffered by ethnic communities during the conflict. 
Mr. Massieu said the UN Mission is already cooperating with the Government and State entities, and mechanisms created under the peace deal are working to deliver on the expectations of citizens from small farmer, indigenous and Afro-Colombian communities. 
"It is precisely in these rural areas, and for these vulnerable populations, that we can see again the way in which fuller implementation of the agreement and dialogue processes with armed groups can be mutually reinforcing," he said.