Experts demand better measures to protect children caught in conflict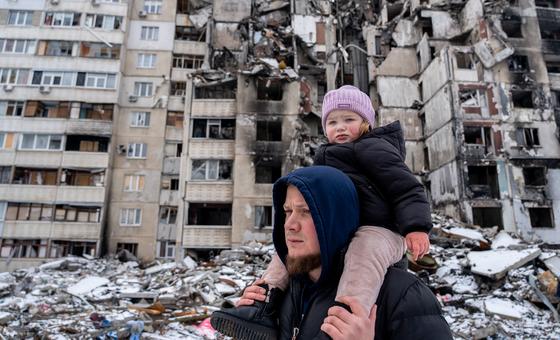 Virginia Gamba, the Secretary-General's Special Representative on Children and Armed Conflict, who is currently preparing her latest report, said data gathered so far reveals that trends showing high levels of violations are continuing. 
Nearly 24,000 grave violations were verified in 2021, the last reporting year. 
Most involved killing and maiming, as well as recruitment and use in fighting, followed by denial of humanitarian access and abduction. 
Multiple risk factors 
While documenting and verifying are a critical first step, she said understanding and identifying the pre-existing risks and vulnerabilities will be critical to protecting children and preventing violations of their rights once conflict occurs. 
The most vulnerable children are those who lack education or livelihood opportunities, or who are in situations of poverty and displacement, or who have disabilities, among other risk factors. 
"These children are thus more exposed to recruitment and re-recruitment by armed groups and other risks such as gender-based violence in times of war," she told the Council. 
"Similarly, where we document children being taken across borders and trafficked from or through conflict situations, we would be remiss to account for these situations if we were not to track and respond to the particular risks these children are facing." 
More action needed 
Going forward, Ms. Gamba highlighted some of the robust tools and initiatives her Office has developed, which include getting warring parties to implement action plans to better protect children and developing joint action plans with Governments concerned. 
"But more needs to be done," she said.  "There is opportunity to develop national-level strategies or common approaches to prevention, also at the subregional and regional levels and sufficient capacities should be provided to governments willing to engage in this direction." 
Ms. Gamba said her Office has strengthened partnership with the Office of the Secretary-General's Special Representative on Violence against Children, headed by Dr. Najat Maalla M'jid. 
"We commit to better understanding and externally communicating integral linkages between these two agendas going forward, including between early warning and incidents of violations and abuses against children, with the children – and their voices – at their centre," she said. 
Conflicts overlap crises 
Briefing the Council, Dr. M'jid noted that conflicts often overlap with other crises, such as the climate emergency and the financial crisis.   
They also amplify pre-existing social inequalities, poverty, hunger, and discrimination, further exacerbating the risks and impact of violence among children. 
The UN Special Representative presented several concrete preventive measures to address "the continuum of violence", starting with understanding and identifying children caught in conflict and where they are located.  
Ensure aid access 
"It is crucial to ensure provision of easy access to humanitarian aid and support for all children with particular attention to the most vulnerable," she added, noting this can make children, families and communities more resilient to the adverse impacts of conflict. 
Dr. M'jid also called for strengthening cross-border cooperation to protect forcibly displaced children from abduction, trafficking or going missing. 
"This cooperation will allow better accountability for the perpetrators, traffickers through improved capabilities for criminal investigations and mutual legal assistance," she said. 
Uplift children's experiences 
The UN expert stressed that "all actions to address child protection must be informed and shaped by children's experiences, as they know best where the systems have failed them the most." 
Dr. M'jid reported that children affected by conflict are also taking steps to provide peer support, promote peace and reconciliation, and prevent radicalization. 
"In Syria and in Ukraine girls have shared their stories with the world to promote peace. In Afghanistan they have promoted peace through art and writing. In Africa and Latin America young leaders have been actively engaged in peace building. These are just a few examples," she said.