Human rights 'best antidote' to advance peace, Security Council hears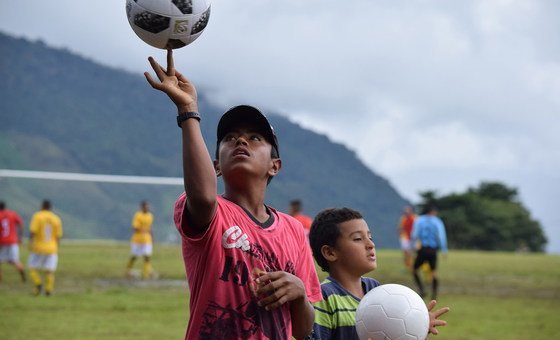 Ambassadors met to examine the Council's efforts towards building trust that leads to sustainable peace, in light of current and emerging threats. 
"Full compliance with human rights is the best antidote to the inequalities, unaddressed grievances and exclusion which are often at the root of instability and conflict," said Mr. Türk, speaking via videolink from Nairobi. 
"An unwavering human rights lens and strong human rights action – based on norms tried and tested – lead us away from chaos and conflict; advance development; and build trust," he added. 
Critical at all stages 
Human rights are essential at every stage of the "peace continuum" spanning prevention, conflict and resolution, he said, citing examples such as the current crises in Haiti and Sudan. 
At the same time, trust – which underpins both human relations and the social contract between people and State institutions – is the foundation of conflict prevention and lasting peace.  
"It is, indeed, the comprehensive advancement of all human rights that builds trust," he told the Council. 
"I have experienced this time and time again when engaging with victims, with human rights defenders and refugees. It is their voices that human rights seek to amplify and bring to the table." 
Haiti 'human rights emergency' 
Mr. Türk outlined how a human rights perspective applies at all stages of the peace continuum, starting with early warning and preventive action to detect and address the drivers of conflict. 
"In Haiti, early warning signals pointed persistently to the profoundly destructive impact of inequalities, corruption and exclusion on both trust and stability," he said. 
Last year, the Council established an arms embargo and targeted sanctions in response to the rampant armed gang violence gripping the country, but the human rights chief insisted that more action is urgently needed now. 
"I visited the country in February. It is dangling over an abyss," he said. 
"The State's lack of capacity to fulfill human rights has completely eroded people's confidence. The social contract has collapsed. The current lawlessness is a human rights emergency that calls for a robust response."  
Building trust in Sudan 
Meanwhile, when conflict has erupted, human rights monitoring puts focus on the impact on people, while also serving to counter misinformation that can feed hostility and fear.  
Mr. Türk addressed the conflict in Sudan, where rival military forces have been battling for nearly three weeks, endangering hopes of a transition to civilian rule. 
"We know that Sudan's future depends on building trust between the Sudanese people and the institutions that are supposed to serve them," he said.  
"Human rights, an end to impunity, and participation by the population – particularly women and young people – must be the driving forces out of the current crisis, so that Sudan can stabilise at last." 
Participation and press freedom 
Furthermore, the full range of human rights standards are also crucial in ending conflict and establishing sustainable peace, Mr. Türk said, referring to the principles of accountability, non-discrimination, and participation, especially by women and girls, minority groups and youth. 
He noted how participation has been crucial to building trust in Colombia, following the signing of the 2016 peace deal that ended five decades of conflict between the authorities and the FARC-EP militia group.   
The agreement also addresses deep-rooted structural issues around land reform, discrimination, and inequality. 
"In Colombia, as elsewhere, human rights and justice will be the best guides on the longer road towards reconciliation and sustainable peace," he said. 
As the meeting was held on World Press Freedom Day, observed annually on 3 May, the UN rights chief also underscored the importance of press freedom and protection of journalists.