Keep Sudan borders open UNHCR urges, amid alarming rise in child deaths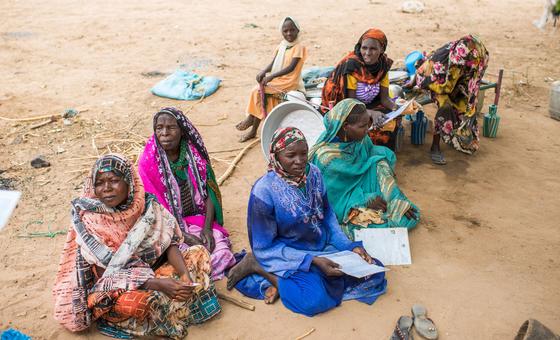 Elizabeth Tan, UNHCR's Director of International Protection said their first request was that countries allow civilians fleeing Sudan on "a non-discriminatory manner to access their territory".
She said this applied to Sudanese nationals, foreign nationals, and refugees who are being hosted in Sudan, "stateless persons, as well as those who do not have a passport or any other form of identification."
Since the military showdown began between the national army and main rival militia known as the Rapid Support Forces (RSF) began on 15 April, UNHCR and humanitarian partners have been reporting a shocking array of human rights violations, including indiscriminate attacks against civilians and sexual violence.
Widespread criminality and looting of civilian infrastructure, including hospitals and humanitarian premises, have forced many Sudanese to flee and seek safety outside Sudan.    
"There are Sudanese who are outside of Sudan and who now require protection," said Ms. Tan.
"They should not be sent back to Sudan if they have ongoing asylum claims. We are requesting that negative decisions be put on hold."
Large numbers of civilians have been forced to flee the fighting, including people who were already internally displaced because of previous conflict in Sudan, and refugees from other countries.
"There were 1.1 million refugees hosted in Sudan, and those individuals require protection", she stressed.
UNHCR remains particularly concerned about the situation of the newly displaced in Darfur.
"We have heard reports about IDP (internally displaced people) camps being burned to the ground, so we know that people are being displaced. The IDPs in Darfur are being displaced again," said Ms. Tan.
"Our ability to provide assistance in Darfur is severely constrained." She said in the east of the country, UNHCR was able to provide some assistance "because that part of the country is still relatively stable – In Darfur it's a different situation and so the humanitarian situation is likely to deteriorate." 
7 children an hour killed or injured
The UN Children's Fund (UNICEF) also released disturbing new numbers of children killed and injured in Sudan, particularly the conflict hotspots of Khartoum and the Darfurs.
"The reports we have received are 190 children killed and 1,700 injured," said UNICEF spokesperson James Elder, referring to the time since the violent military clashes began. "That means that every single hour you have seven boys or girls have been killed or injured."
Mr. Elder added that "these are only children getting to health facilities. I think this is underlining the enormity of how violent this is and how much it's impacting children. This is before we look at the eight million plus who needed humanitarian assistance", who are dealing with severely damaged health and water systems.
No safe haven
UNICEF stressed that particularly places where children must be safe such as homes, schools and hospitals have consistently come under attack.
While condemning the attacks on humanitarian workers and humanitarian facilities as well as the looting of vehicles and supplies, UNICEF stressed that such attacks undermine the capacity to reach children with critical aid.
Quoting the Sudanese Ministry of Health, Dr Margaret Harris, Spokesperson for the World Health Organization (WHO), said that "4,926 people were wounded and 551 people have been killed" but that real numbers are likely much higher.
Bleeding out
According to WHO's Dr Harris, 25 per cent of people failed to survive because they could not get simple treatment to stem bleeding.
In the third week of brutal fighting in Sudan, healthcare services are rapidly falling apart in the nation's capital, Khartoum. Very few hospitals are fully operating and over 60 per cent are no longer operating.  
On Thursday, UNCHR and 134 partners, announced funding requirements of $445 million for the regional interagency refugee's initial emergency response plan in five countries to assist an estimated 860,000 Sudanese, refugees of other nationalists and refugees' returnees leaving the country.