Right to development can save world from 'destructive spiral': Türk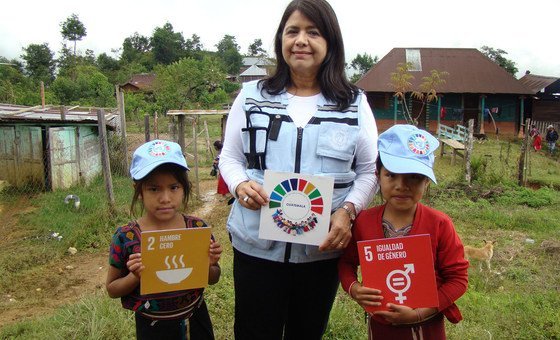 Adding her voice to the High Commissioner's call for action, UN Deputy Secretary-General Amina Mohammed warned in a video message that the right to development has "yet to be realized by billions of people" who were "hurting (while) the planet is burning. The world cannot wait."
Marking the 35th anniversary of the UN Declaration on the Right to Development at the Human Rights Council this week in Geneva, Mr. Türk emphasized that the value of this landmark accord comes from the equal importance it gives to people's economic, social, cultural, civil and political rights.
"We are seeing inequalities are escalating to perilous proportions. Climate change and biodiversity loss are far outpacing our corrective efforts," Mr. Türk told the Geneva forum on Tuesday.
"I am convinced that progress in realising the full spectrum of human rights can reverse this destructive spiral and can re-establish the basis for dialogue and sustainable development between, and within, Member States."
One right should not be prioritized over another, the High Commissioner continued. Political freedoms were "not more vital than social or cultural rights", just as civic freedoms were no less important than achieving economic rights.
Perilous inequality
All countries should acknowledge their "inescapable interdependence" and work together, the UN rights chief continued, as he warned that key Sustainable Development Goals – agreed by all UN Member States in 2015 – have been "knocked badly off track", largely by the COVID-19 pandemic.
Global problems that can only be fixed by a common multilateral approach include climate change and biodiversity loss, Mr. Türk continued, as he pointed to a "severe pushback" in gender equality and the rights of women and girls, the invasion of Ukraine and other simmering geopolitical tensions.
Developing solutions
With an equally sobering message of his own, the UN Development Programme (UNDP) Administrator, Achim Steiner, noted that "for the first time ever, the latest Human Development Index – which measures a nation's health, education, and standard of living – has declined globally for two years in a row".
As people are "taking to the streets…in frustration over a lack of climate and environmental action", and as climate activists "are threatened, harassed and killed", Mr. Steiner explained that in partnership with UNDP and others, national human rights institutions have been encouraged to play a pivotal role in addressing inequalities linked to climate change and environmental degradation.
At an individual level, the UNDP chief also noted that tens of thousands of people have been helped to participate in their country's development through the agency's Climate Promise Initiative and via consultations on Nationally Determined Contributions.
G20 partnership call
Further progress in securing the right to development could also be achieved if new sources of finance can be found to promote the right to development in line with the UN Secretary-General's new SDG Stimulus Plan, Mr. Steiner added.
This calls for the G20 group of industrialized nations to provide a $500 billion annual stimulus for sustainable development, as well as new debt relief measures for developing countries.
"As part of these efforts, countries need to recommit to the target of dedicating 0.7 per cent of their Gross National Income to Official Development Assistance", the UNDP chief said.