Sunshine, sea, and sustainable tourism: Indonesian women entrepreneurs adapt to a changing world
As the sun sets over the Celebes sea, and its orange glow turns the horizon gold, a couple of dozen tourists are on the pier at Budo, a village of 2400 perched on the ocean, 25 kilometres northeast of the regional capital Manado.
They snap photos and marvel at the view; a woman visiting from a nearby town exclaims that, even for the locals, the sun setting on the volcanoes is an extraordinary sight.
However, until a few years ago, the pier – about 300 meters long, crossing a mangrove forest to connect the village to the open sea – was dilapidated and used only by fishers heading out to sea.
But those were different times, explains Hani Lorens Singa, President of the Village Enterprise Association (BUMDES): back then there were far more fish, and no tourists.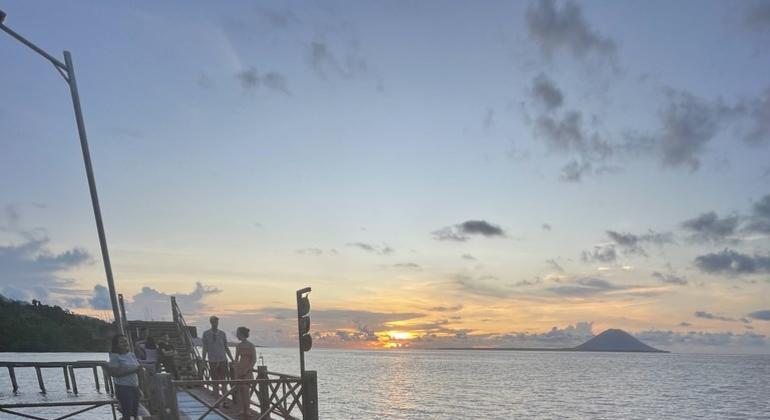 Budo, like many coastal villages in North Sulawesi, in far northeastern Indonesia, has traditionally been dependent on small scale fishing, but fish stocks have shrunk, prompting a new focus on tourism as a way of creating livelihoods.
A programme set up by the International Labour Organization (ILO, a UN agency), is helping the rural community of Budo, and four other villages, to diversify into sustainable tourism, providing skills to local entrepreneurs, mostly women.
The pier has been renovated and painted, with support from the government, and benches and wooden huts have been added for the convenience of tourists, who pay an entrance fee of 10,000 Rupiahs ($0.65), to walk along it and enjoy the view.
Visitors can buy local delicacies and drinks at the ticket counter, and the orders are prepared and delivered to the pier by available members of the village association. "We share the work, we share the income – this is tourism at a human scale", says Mr. Lorens Singa.
Since the renovation, a fifth of the visitors spend more, ordering local delicacies and drinks at the ticket counter with the occasional visitor also staying the night.
Thanks to support from ILO and its partners, Budo has increased its income from tourism fivefold and now appears on the tourist trail: the village was the winner of the digital marketing category at the Ministry of Tourism and Creative Economy's Top 50 Village Tourism Award this year.
Despite the improvements, a lot still remains to be done, and Mr. Lorens Singa is not complacent. "We need to offer more reasons for people to stay for a meal or overnight," he insists.
Homestays, hashtags, and home cooking
About an hour's drive east of Budo, the inhabitants of Marinsow have taken a crash course in the bed and breakfast business, a steep learning curve for many of them.
"Many of the entrepreneurs we work with have never been tourists themselves, so without training, it is not obvious for them to know what tourists expect," says Mary Kent, the ILO Chief Technical Adviser for the project.
Marinsow is in a mining region, several kilometres away from Indonesia's pristine beaches, so tourists previously had no reason to stop by. But, since Marinsow was designated as a "priority tours destination" by the Government, the village has received a significant financial boost, aimed at diversifying the economy.
More than 50 villagers received small wooden bungalows on their plots to start bed and breakfast businesses, or homestays, as they are known in Indonesia. ILO, with local partners Klabat University and the Manado State Polytechnic, is helping to teach local people the skills needed to be a successful entrepreneur, such as bookkeeping, cost calculation and marketing, hospitality, and tourism.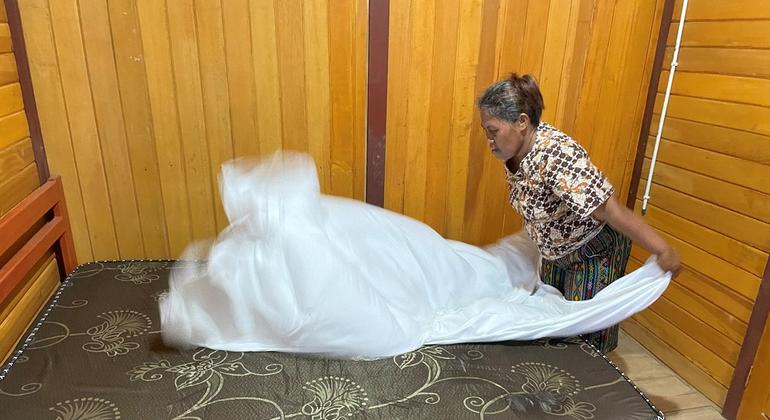 "I was very surprised to learn that tourists prefer their sheet white and a diversity of meals," says Yeni Alelo. Ms. Alelo and the other participants have also learned the importance of using hashtags in social media marketing posts, so that tourists looking for a place to stay in the area find them more easily.
"The women's small businesses are financed through microfinance credits, and they have been able to make all the payments on time," says Gabriel Tamasengge, the village's mayor. "We are very proud of our women, of the business acumen we never knew they had."
The investment in skills for marketing and quality control in these communities is paying off, with about half of the few hundred tourists spending the night in Marinsow last year coming from outside the province, including an increasing number from abroad.
Back in Budo, there is interest in building more homestays, and increasing overnight stays, perhaps by creating a marketing campaign to convince foreign tourists from nearby world-class diving destinations within the Bunaken Marine Park to hop over for an evening meal and make a visit to a typical village, rather than sticking to the usual mass tourism destinations. The Village Enterprise Association also plans to offer cooking and handicraft classes, as well as fishing trips.
"Our task now is to make sure that when the funding from ILO and the government stops, we will have a fully formed business that allows us to stand completely on our own feet," says Mr. Lorens Singa. "We had the vision, and we have the commitment – I am confident we will succeed."