UN commends Criminal Tribunal for former Yugoslavia, as final judgement is delivered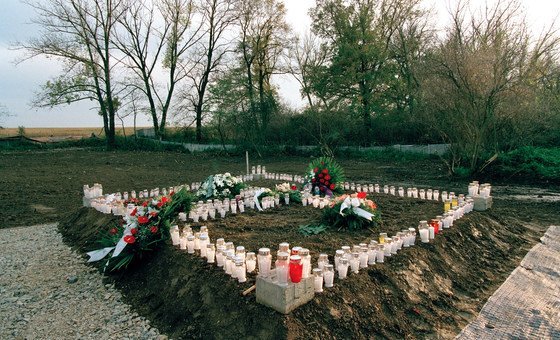 Jovica Stanišić and Franko Simatović were convicted by the court – part of the International Residual Mechanism for Criminal Tribunals (IRMCT) which took over from the ICTY – in 2021, for their roles training death squads accused of ethnic cleansing during the conflict that saw the breakup of the former Yugoslavia in the early 1990s.
The two were originally sentenced to 12 years by the court in 2021, but Wednesday's appeal judgement against them, increased that to 15 years, on the grounds that they were "liable as members of a joint criminal enterprise for crimes committed by various Serb forces in Bosnia and Herzegovina in 1992", as well as responsible for murder, in the same year.
Justice for the victims
In a statement, UN Spokesperson Stéphane Dujarric said that Secretary-General António Guterres "takes note of this appeal and extends his thoughts to the victims, and survivors and their families who have suffered from the crimes for which both defendants have been found guilty."
The judgement marks the end of the final case relating to "core crimes" that the Mechanism inherited from the ICTY, which was established in 1993 to prosecute suspected war criminals.
The IRMCT Chief Prosecutor, Serge Brammertz, said that the decision demonstrated that the international community, "when united, can deliver justice to the victims and hold the most senior perpetrators responsible for their crimes.
Remembering the victims and survivors, and sheer courage of witnesses who have come forward, he added that there were still thousands of war crimes suspects throughout the former Yugoslavia, "who remain to be prosecuted."
"We will continue our intensive efforts to provide assistance to national counterparts, to ensure that more justice is achieved for more victims."
Truth triumphs
UN High Commissioner for Human Rights Volker Türk, also welcomed Wednesday's final judgement, describing the outcome as a major step to establishing the truth and addressing impunity.
"The extraordinary work and legacy of the Mechanism and of the International Criminal Tribunal before it, have not only contributed to establishing truth, justice and accountability over the years but have also powerfully advanced international criminal justice standards globally," Mr. Türk said.
Like the Secretary-General, the UN rights chief highlighted the courage, resilience and perseverance of survivors and families who, despite appalling trauma, never stopped seeking truth and justice.
"I want to praise, strongly, the survivors and their families, whose suffering is unimaginable but who persisted in demanding their rights," he said.
He also stressed that many survivors and their families are still awaiting truth, justice and reparations.
Threats continue
Many victims continue to face threats, intimidation, hate speech and revisionist rhetoric, including rejection of the tribunals' decisions; denials that crimes were committed; justification of atrocities; and the glorification of war criminals.
"Verdicts like today's, remind us of an awful past to which we must never return.
He urged the authorities, "media outlets and people in Bosnia and Herzegovina, Croatia, Montenegro, Serbia, North Macedonia and Kosovo, to step up efforts to advance truth, justice, reparation and guarantees of non-recurrence.
"Revisionist narratives, genocide denial, divisive rhetoric and hate speech, from any quarter, are unacceptable."