Unity in Security Council essential, in face of Taliban rights violations against women and girls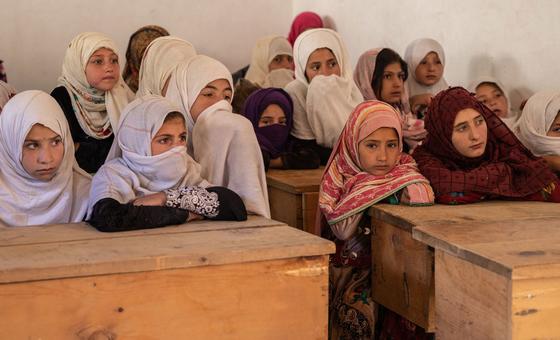 Addressing a private meeting of the Council, Roza Otunbayeva reiterated to ambassadors that Taliban decisions including the ban on girls attending high school, preventing women from going to university, and barring them from doing humanitarian work, are all "grave violations of fundamental rights", according to UN Spokesperson Stéphane Dujarric.
He told reporters at the noon briefing in New York that the Taliban had also "contradicted assurances" given, following their nationwide takeover of Afghanistan, about the role women would play in the country under their fundamentalist rule.
Aid deliveries thwarted
"The Special Representative also outlined the potential negative impact of such decisions, including, most immediately, on the delivery of humanitarian assistance to Afghans in desperate need", said Mr. Dujarric. "She stressed the need for Council unity in the face of these decisions."
Following the ban on women from working for non-governmental organisations or other aid sector jobs last month, many NGOs suspended their lifesaving operations, on the grounds that it would be impossible to distribute aid and staff operations, without local women's participation.
Distributions 'severely impacted'
The UN aid coordination office (OCHA) in Afghanistan, tweeted on Friday that humanitarian partners were providing winterization support to families there, including heating and cash for fuel and warm clothes as temperatures dip towards -35C, "but distributions have been severely impacted" by the ban on female aid workers.
The UN Spokesperson noted that the Council was also briefed by the Executive Director of UN Children's Fund UNICEF, "who focused her briefing on the situation of girls and children in Afghanistan."
Ahead of the meeting, the Security Council members who are signatories and supporters of the Women, Peace and Security (WPS) agenda, issued a statement "to express grave concern regarding the critical situation of women and girls in Afghanistan."
Measures must be immediately reversed
The 11 nations urged the Taliban "to immediately reverse all oppressive measures against women and girls", adhere to commitments made to the Security Council, respect women and girls' rights, "and their full, equal and meaningful participation and inclusion across all aspects of society in Afghanistan, from political and economic, to education and public space."
The statement delivered outside the Council chamber by current president for the month of January, Japanese Ambassador Kimihiro Ishikane, underlined that women are "central and critical" to humanitarian operations and have "unique expertise" to access populations that male colleagues cannot reach.
The WPS group also reaffirmed their strong support for the UN Assistance Mission in Afghanistan, UNAMA, "not least in their valuable contribution to gender equality".
The statement reiterated the demand for full, safe and unhindered access for humanitarian actors, "regardless of gender".
Condemnation of deadly ISIL attack
On Thursday, the Security Council issued a statement condemning "in the strongest terms", the attack near the Afghan Foreign Affairs ministry on 11 January, which was claimed by the ISIL or Da'esh terrorist group, which news reports  – quoting Taliban sources – said resulted in at least 20 deaths, with dozens more wounded.
Council members "underline the need to hold perpetrators, organisers financiers and sponsors of these reprehensible acts of terrorism accountable, and bring them to justice."
News reports said that a suicide attacker blew himself up outside the ministry in Kabul, after he failed to gain access to the building.