Values of UN Charter under threat like never before, warns Guterres
In response to the assault on the principles behind the United Nations, António Guterres said that the international community needed to raise the alarm, and "reaffirm those values."
'Elusive and fragile'
Above all, "we need peace" he told the audience gathered for the prestigious award championing multilateralism in Europe, at the Royal Monastery of Yuste, in Extremadura, noting that the UN and the European Union, were created in the name of peace amid the ashes of World War Two.
"Peace remains our North Star and our most precious goal. Yet the struggle for peace may seem at times like a Sisyphean task. We live in a world today in which peace is elusive and fragile."
He said that violence had become rampant, in too many parts of the world, citing Russia's invasion of Ukraine, a plain violation of the Charter, coming on the heels of the "economic dislocation" triggered by the COVID-19 pandemic.
"Wars and humanitarian crises are spreading, sometimes before our very eyes, but often far from the spotlight. They are more complex, and interconnected, and their impact is growing by the day."
He said that the sudden explosion of violence across Sudan, was a reminder that peace can often fall apart "dramatically overnight" and should never be underestimated or taken for granted.
Working for peace
"We must work to make peace and to keep it, every day, tirelessly", he added. "In a world that is tearing itself apart, we must heal divisions, prevent escalation and listen to grievances."
Diplomacy must replace rule by the gun, centred around negotiation, mediation, conciliation, and arbitration. To do this, women need to play a full part, and have a leadership role in diplomacy, he urged.
He voiced concern also at the war against nature, reiterating his view that humanity's very survival is now in danger, unless the pace of climate change can be slowed.
"Climate chaos is unleashing fires, floods, drought, like here in Spain, and other extreme weather events on every continent. Each year these events are uprooting millions of people who often have to seek refuge in countries and communities that are equally vulnerable."
Likewise, he argued that taking action for the planet, was also action for peace itself: "And by the same token, reducing emissions, protecting our environment and helping affected communities is taking action for justice."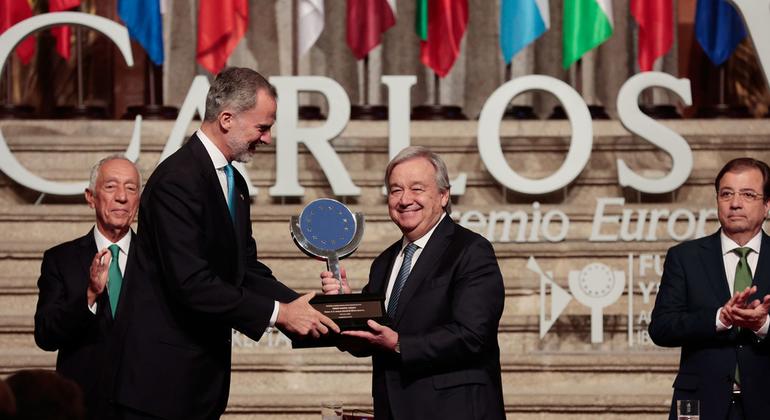 Peace through human rights
He also said that for peace to be sustainable, it needed to be based on respect for human rights, with widespread attacks mounting across the board.
"Hate speech, the polarization, racism and xenophobia, are spreading at the speed of a mouse click. We must look back and learn from our past."
He said that with new dangers looming daily, "the struggle for these rights is now more crucial than ever", and it was time now to "defend our common humanity."
Bridge building 
"Today more than ever, in our divided world, building bridges is the only option", declared the Secretary-General. "We must work together to build sustainable, inclusive societies and economies, based on human rights and dignity.
If we join forces, there is hope – UN Secretary-General
"This is what continues to motivate the efforts of the United Nations, day in and day out, in each of the countries in which we work. If we join forces, there is hope."
That hope was embodied by campaigners for peace across the world, who sometimes risk their lives, for change, and demands for accountability.
It is embodied in the younger generation, and civil society, seeking to build community, with a focus on national justice and equality.
He also pointed to the "everyday heroes of humanitarian action" who were striving to deliver vital aid worldwide, pledging to give part of the Carlos V European Award to a scholarship fund for students specialising in migration, refugees and human rights.
On this Europe Day, he concluded, "let us reaffirm the ideals of peace, justice and international cooperation. And together, let us tirelessly defend human dignity and human rights, dialogue and mutual respect."