First Person: Aboriginal Australians suffer from 'violent history' and ongoing 'institutional racism'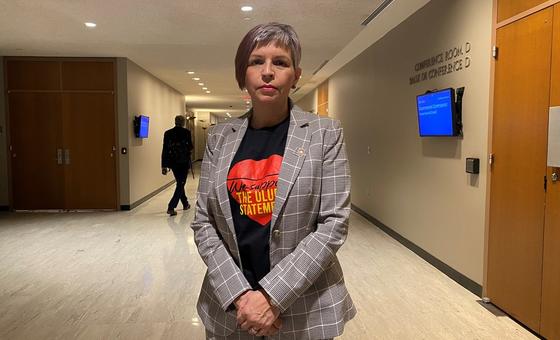 Hannah McGlade represents the Kurin Minang Noongar people, at the Permanent Forum on Indigenous Issues.
Ms. McGlade spoke to UN News at UN Headquarters, during the 2023 session of the Forum, which takes place between 17 and 28 April.
"I've been an activist in my community sine I was young. I decided to study law because I thought that I could help to improve our human rights situation. I was fortunate enough to be able to undertake a master's degree in international human rights, so I've been using it as best I can at international forums, and also advocating for reforms in Australia, because our human rights situation is very dire.
My people, the Noongar, were violently dispossessed from their lands by the British, and were basically enslaved: my great grandmother was an indentured child labourer. People who resisted the very cruel laws of the time were incarcerated and taken from their countries by chains to an island prison, where many died. Aboriginal children were forcibly removed from their families, en masse, as part of a policy called assimilation.
This is our violent history. As I was growing up, we faced many issues, including racism and the targeting of Aboriginal people, including aboriginal youth, by police; violence against women; refusal of our land rights; and poverty.
Coded racism, rights denied
Today, there is still a lot of racism in the media and in society. We face serious human rights issues, including the removal of children from their mothers, the high incarceration rates of Aboriginal people, particularly children and young people, in conditions that are very inhumane.
Australia is not the country I grew up in, when openly racist, derogatory language was used. But there's more coded racism now. For example, the terribly sad issue of Aboriginal child sexual abuse is used as an excuse for removing children from their families.
There's a lot of resistance to our rights being recognized, even the right to have our own national indigenous body, which should not be argued about in this day and age.
In some ways our rights situation is getting worse, according to the government's own data. We're seeing more incarceration of Aboriginal people; more Aboriginal children being removed from their mothers and families, increasingly to non-Indigenous families where they lose their cultural identity; and we're seeing more Aboriginal suicides as well.
These are the shocking, ongoing impacts of colonization and we know that systemic and institutional racism and discrimination is a key driver of these issues.
The fight for a voice in parliament
There have been some improvements. We are now looking at a national referendum to change the Australian Constitution, to enshrine a democratically elected Aboriginal voice in parliament, that will be consulted and heard on matters affecting Aboriginal people. This would represent a historic, very substantive reform to the Constitution.
I'm really hoping that we are going to make this change. But of course, we are a minority, just four per cent of the population, and a majority of Australians will need to vote in favour of the reform.
We're also calling on Australia to adopt a national action plan based on the UN Declaration on the Rights of Indigenous Peoples. That was a recommendation of the World Conference on Indigenous Peoples in 2014, and it still hasn't happened. Australia cannot claim leadership internationally, without respecting its international commitments in respect to indigenous peoples.
The power of international law
This Forum is a real chance for us to raise indigenous human rights issues with the governments of the world and indigenous peoples of the world listening. Decisions made here may not be binding at a national level, but UN Member States do have an obligation to genuinely engage, and to uphold our rights as indigenous peoples.
Sometimes we have a better chance of influencing domestic reforms in our country by arguing our case before the UN and in UN forums: the UN is still a prestigious international forum that we know that our governments have to respect.
I've used UN mechanisms to advance the issue of violence against indigenous women in Australia; for over five years, I went to various UN treaty bodies and highlighted this issue and the failure of the government allocate resources and develop relevant policies. This eventually led to a commitment from the Australian Government to act.
We are a part of the UN and the World Affairs now. With the threat of climate change and our future in the balance, it should be very clear that indigenous peoples have their place in this dialogue."
The UN Permanent Forum on Indigenous Issues
The United Nations Permanent Forum on Indigenous Issues (UNPFII) is a high- level advisory body to the Economic and Social Council. The Forum was established to deal with indigenous issues related to economic and social development, culture, the environment, education, health and human rights.
In addition to the six mandated areas (economic and social development, culture, the environment, education, health and human rights), each session is thematically focused on a specific issue.
The Permanent Forum is one of three UN bodies mandated to deal specifically with indigenous peoples' issues. The others are the Expert Mechanism on the Rights of Indigenous Peoples and the Special Rapporteur on the rights of indigenous peoples.
The 2023 session of the Forum takes place from 17-28 April at UN Headquarters.