First Person: Vulnerable Ukrainian farmers plough a self-sufficient furrow
Pierre Vauthier is the chief of office for the FAO in Ukraine. He told UN News how the FAO team in the country – around 100 staff members, mostly Ukrainian specialists in agriculture-related areas – was dispersed throughout the country, in often difficult working conditions.
"One of the difficulties we faced, once the war began, was that many of our own colleagues were forced to leave their homes and move to safer areas. Despite this challenge, we managed to respond rapidly to the needs of those affected.
From April, we began distributing seeds, mainly to people who had been forced to leave their homes, and had taken refuge in villages where they felt more secure, and had more chance of finding accommodation.
People on the frontlines or occupied zones suffered extreme hardships.
Agricultural businesses, particularly the larger ones, were seriously affected at all levels, but they turned out to be extremely resilient, and demonstrated an ability to reorganize and resume operations.
On the other hand, small-scale farmers, small businesses, and rural families were very vulnerable; they produce food for the rest of the country and are in need of humanitarian aid.
More than 30,000 houeholds received seeds and cash transfers from FAO and this has helped to reinforce the local economy and build resiliency.
FAO's goal is to remove half a million households, or one million people in rural areas, from humanitarian assistance by the end of 2023 and to enable them to become self-sufficient and thus contribute to reviving the rural economy.
Avoiding the collapse of agricultural production
In 2022, Ukrainian ports, which exported more than 80-90% of the country's grain to countries in Africa and Asia, were blocked.
To prevent the total collapse of agricultural production, FAO, in coordination with the government and partners was able to purchase and provide nearly 6 million tonnes of grain storage capacity. This meant that farmers, many of whom had lost infrastructure due to the war, could store their production and avoid losses.
This ultimately saved the 2022 harvest and stabilized the global situation.
2023 priorities
The fall in agricultural production of between 30% and 40% due to the war will have a significant impact on the national economy and on food security, so it's crucial that farming is supported.
FAO set up a special programme to support farmers in frontline areas by providing seeds so they can maintain their production.
We have also distributed generators, with the support of Germany, so food producers and other elements of the food chain have the power to carry on. So, for example, we have given generators to large bakeries in Kyiv and Kherson so they can bake bread.
FAO is also working on reducing fossil fuel consumption in the agricultural sector and exploring options such as solar energy and bio-fuels.
And crucially, FAO is working with the World Food Programme (WFP) to identify and prioritize land in need of demining and rehabilitation to ensure the safety of farmers and to allow agricultural production to take place in a safe and efficient manner as soon as possible.
There is an estimated one million hectares of land affected by mines and unexploded ordnance left in the fields.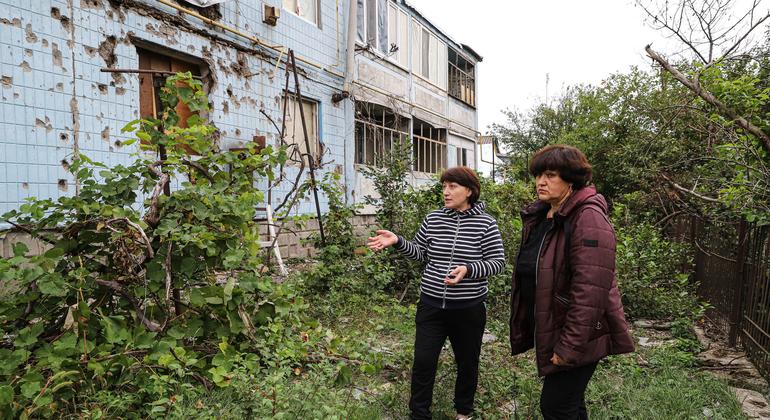 © UNOCHA/Kateryna Klochko
Solidarity amongst farmers
I am impressed by the solidarity of farmers in Ukraine, who are motivated to restart their production, resume their normal lives and provide agricultural products for their communities, despite being affected by circumstances outside their control.
In that sense their preoccupations around harvests, their livestock, maintaining production and selling to markets are very much similar to the concerns of other farmers I have met around the world in places like Mali, Ethiopia, South Sudan and the Central African Republic.
Work continues despite challenges
The ongoing war is complicating humanitarian operations, particularly in areas where military activity is intense.
Almost every day, we have to resort to our bunkers for protection, but we continue to work.
Security remains a major concern, especially for our staff, who often live on the outskirts of the cities where we are based. But we remain vigilant about exposing ourselves to unnecessary risk."