Libya: Bathily proposes election support body, as public frustration mounts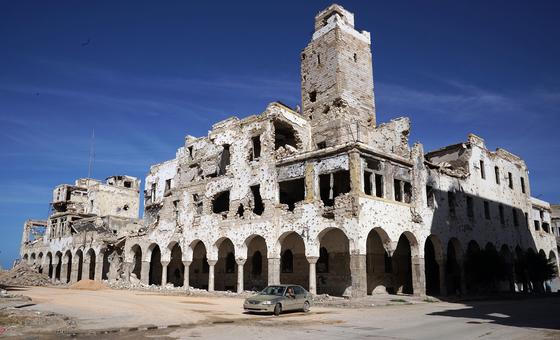 "The political process remains protracted and falls short of the aspirations of Libyans, who seek to elect their leaders and reinvigorate their political institutions," said Abdoulaye Bathily, Special Representative for Libya and head of the UN's political mission in the country, known as UNSMIL.
"In short, Libyans are impatient," he stressed, noting that they are widely questioning the will and desire of political actors to hold inclusive and transparent elections in 2023, as planned.
Critical elections
Outlining his extensive engagement with Libyan actors over recent months – from civil society representatives to tribal leaders to senior national authorities – the Special Representative said he has also met with General Khalifa Haftar, head of the so-called Libyan National Army, a rival administration to the UN-recognized Government of National Accord. 
Libya has grappled with multiple crises since the 2011 overthrow of Muammar Gaddafi, who had led the oil-rich nation since 1969, and the UN has been working to support a peaceful resolution ever since.
In December 2021, legal disputes and other challenges forced Libya to postpone, and later cancel, critical presidential and parliamentary elections, sparking disappointment both within and beyond the country's borders.
Special Representative Bathily, appointed in September 2022, had aimed to help Libyan parties and international partners to agree on a constitutional basis for those elections by the end of February.
'Crisis of legitimacy'
Meanwhile, Mr. Bathily said Libya's political class continues to face a major crisis of legitimacy, and most State institutions lost their authority in the eyes of ordinary Libyans "years ago". 
Citing the lack of progress on elections as a critical barrier to forward progress, he announced his decision to launch a new initiative aimed at enabling the organization and holding of presidential and legislative elections in 2023. 
The proposed "high-level steering panel" will bring together all relevant Libyan stakeholders to facilitate the adoption of a legal framework, as well as a time-bound road map, for the holding of elections this calendar year. 
It will also provide a platform to advance consensus around related matters, such as election security, and the adoption of a code of conduct for all candidates.
'Fragile' calm
Turning to Libya's reconciliation process, the Special Representative praised strong support from the African Union and called for the holding of an inclusive conference to that end.
"Reconciliation is a long-term process that should be inclusive, victim-centred, rights-based and grounded on transitional justice principles," he said.
Reporting that Libya's ceasefire continues to hold – with no violations recorded since his last briefing, in December – he nevertheless cautioned that Libya's security situation remains fragile, and recent strides must be protected.
Among those, he said the "5+5" Libyan Joint Military Commission, which has been working on the military track of intra-Libyan negotiations for several years, recently endorsed terms of reference for its Disarmament, Demobilization and Reintegration Joint Technical Sub-Committee – a key component of the country's ceasefire agreement.
Mercenaries and foreign fighters
Another important event was a recent meeting between Libya's neighbours – including Sudan and Niger – in which participants agreed to establish a coordination and information sharing committee, aimed at facilitating the withdrawal of mercenaries and foreign fighters from the country.
Speaking last week at a meeting of the African Union's High-level Committee on Libya, in Addis Ababa, Secretary-General António Guterres pointed out that external interference has fuelled Libya's descent into conflict.
He welcomed the creation of a coordination committee as "an important step towards greater stability and peace in Libya and the wider region," while emphasizing that there is "no alternative to elections" on the political track.