More than 850,000 Syrian, Turkish children displaced by earthquakes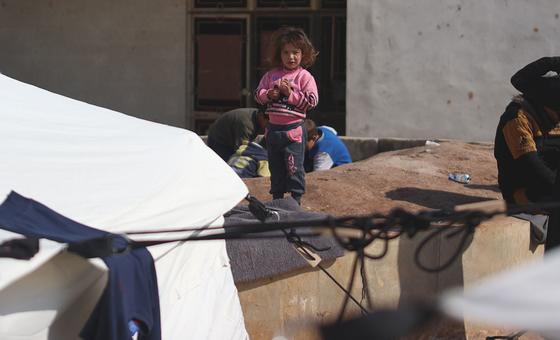 "Families forced from their homes by the earthquakes have spent the past four weeks focused on survival, their lives on hold while aftershocks continue to rumble," said UN Children's Fund (UNICEF) Regional Director for Europe and Central Asia, Afshan Khan.
She said it is now critical "to do all we can to help families begin to rebuild their lives, providing children with psychosocial support, getting them back into learning as soon as possible, and providing some stability amid the chaos."
At the same time, the UN Population Fund (UNFPA) reported on Monday that the situation for the 356,000 pregnant women in earthquake-affected areas remains critical, especially the estimated 38,800 who are expected to deliver in the coming weeks.
Hundreds of hospitals and clinics are either damaged or destroyed, and thousands of women and girls are living in over-crowded, makeshift camps exposed to freezing temperatures, UNFPA said, adding that urgent funding is key to keeping thousands healthy during their pregnancy, to help to deliver their babies safely, and to protect women and girls vulnerable to gender-based violence.
'Catastrophic' impact
UNICEF said the impact of the earthquakes on the region's children and families has been catastrophic, leaving hundreds of thousands living in desperate conditions.
The combined death toll from the earthquakes and aftershocks has reached more than 50,000 people in both countries, with thousands of others injured and massive destruction to buildings and other essential infrastructure.
The number of children killed and injured during the quakes and their aftermath has not yet been confirmed, but is likely to be in the many thousands, UNICEF said. Across Syria, more than 3.7 million children have been affected by the quakes.
"Even before these catastrophic earthquakes, humanitarian needs among children of Syria were higher than they have ever been," said UNICEF Regional Director for the Middle East and North Africa Adele Khodr. "As we approach 12 long years of conflict, millions of families are living on the brink of disaster, feeling as if the world had forgotten them. We must support these families for the long term, helping them pick up the pieces of their lives."
In Syria, more than 500,000 people are believed to have been forced from their homes by the earthquakes. Many families' homes have been destroyed and many children are afraid to return to damaged homes as aftershocks continue.
Even before the earthquakes, Syria had the largest number of internally displaced people in the world, with 6.8 million people displaced, including nearly three million children.
In Türkiye, over 1.9 million people are staying in temporary accommodation shelters, and 2.5 million children in the country require urgent humanitarian assistance.
Helping to rebuild
"Children have seen their whole world crumble before their eyes, but we know how to help them rebuild," Ms. Khan said. "Providing children with the tools – psychosocial support, play and learning, and the stability brought by knowing that their basic needs are met – are immeasurably important in ensuring their long-term wellbeing."
UNICEF has reached almost 500,000 people with lifesaving water, sanitation and hygiene services and supplies across Syria. More than 130,000 affected children under five have been supported with nutrition services.
"Threats come thick and fast for families left vulnerable by the earthquake," Ms. Khodr said. "A comprehensive, integrated response to support children and families is critical in preventing these threats from overwhelming an already catastrophic situation. UNICEF teams are there with children and families affected, but the needs are huge and continued support is vital."
Life-saving assistance
In Türkiye, UNICEF has distributed winter clothes, heaters, and blankets to nearly 277,000 people, including more than 163,000 children. Working closely with the Ministry of Health, UNICEF is procuring life-saving vaccines and cold chain storage equipment.
With UNICEF support, Türkiye's Ministry of Education has set up 87 tents, which are being used as temporary learning centers. Catch-up classes are running in two shifts, benefiting nearly 3,600 children every day, UNICEF reported.
The UN Children's Fund is requesting $196 million to reach 3 million people, including 1.5 million children, in Türkiye and $172.7 million to deliver immediate life-saving support for 5.4 million quake-affected people, including 2.6 million children, in Syria.
Expanding efforts
The World Food Programme (WFP) continues to reach those in need, facilitating life-saving aid deliveries and expanding efforts to reach more quake-affected communities.
Amid cities laying in rubble and buckled roads, WFP staff said colleagues in both countries often work seven days a week.
"Most of us are on autopilot right now," said Omer Celik, a WFP programme assistant working with two dozen other staff from a hotel in the relatively unscathed, southern Turkish port city of Mersin.
But, his team is "turning the stress into something positive", he said. "We're helping over 1.5 million people in northwestern Syria, and it's motivating us a lot."