Musicians promote 'empathy, fraternity, solidarity' between Israelis and Palestinians
The West-Eastern Divan Orchestra, appointed by the UN Secretary-General in 2016 as a United Nations Global Advocate for Cultural Understanding, recently played their first concert at UN headquarters in New York, at a special event organized to demonstrate that when people listen to each other, both musically and in other ways, great results can be achieved.
The West-Eastern Divan Ensemble, led by the orchestra's concertmaster Michael Barenboim, draws upon players of Arab and Israeli heritage.
Founded in 1999, the orchestra's origins lie in the conversations between its creators, Edward W. Said and Daniel Barenboim. Over the course of their friendship, the Palestinian author-scholar and Israeli conductor-pianist discussed ideas on music, culture and humanity.
In their exchanges, they realized the urgent need for an alternative way to address the Israeli-Palestinian conflict. The opportunity to do so came when Barenboim and Said initiated a workshop for young musicians using their experience as a model.
"We have musicians that come from countries that are in conflict with each other in one way or another. We show that by cooperating in a project such as this one, it's possible to bring together people from states which are in conflict so that they're able to work together towards a common goal," said Michael Barenboim.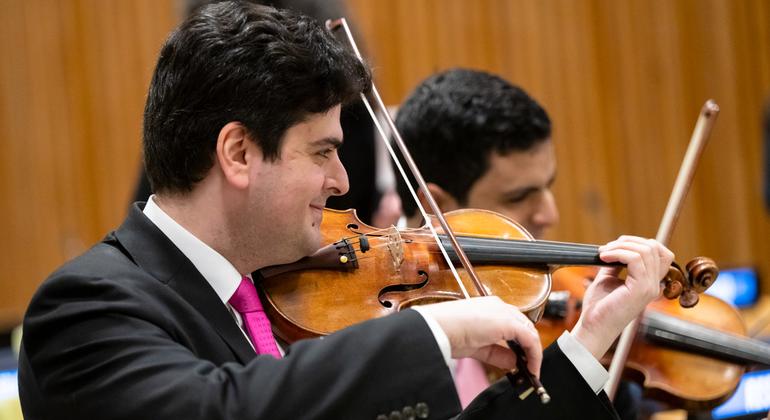 "I think that's showing an alternative model and alternative way of thinking for the Middle East region. Which is not based on arms, bombs, war, blood and conflict, but based on understanding, dialogue and listening to each other. When you play music, you play, but you also have to listen to others," he added.
Mariam Said, widow of Edward W. Said, is a vice president of the US-based Barenboim-Said Foundation.
"Edward believed that humanity is the only thing through which we can counteract the disintegration of our world. And this is the message that the orchestra is trying to send," Mariam Said explained.
"Teaching music as a language opens minds, leading to the generation of new ideas in society. It also allows people to get to know each other," she added.
Sindy Faisal Abdel Wahab from Egypt plays violin in the ensemble.
"I started playing with the West-Eastern Divan Ensemble in 2013, and it was the first time for me to meet musicians from other Arab countries and Israel. It was a surprise to me, and I was curious about how we would deal with each other, how we would play together and understand each other," he said, adding that "I discovered that Israelis have a similar culture to us, but politics is what separates people. When we play together, we forget everything."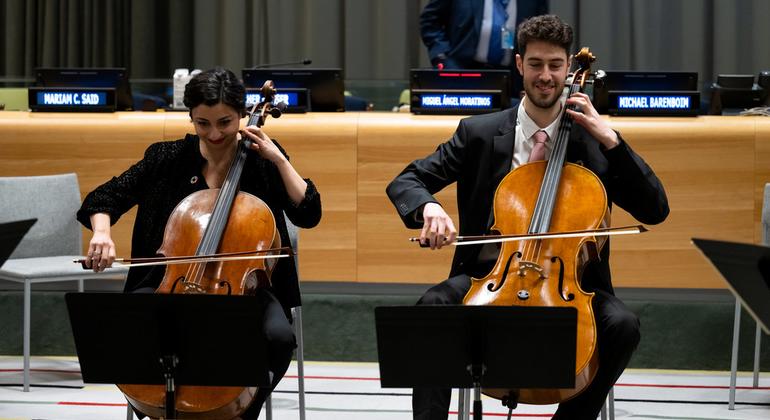 David Strongin, who is from Israel, also plays the violin; he believes that the mission of the orchestra is for musicians from different backgrounds to play music together.
"Through music, one can do everything. You don't need words, and don't need any text. You play together, you learn to listen to each other. And this is actually a great help also for life for us as human beings, because we learn how to listen to each other."
"I think it's not very easy to make music with strangers," he added "because you have to you put so much soul into what you do. But this orchestra feels like one family and so it doesn't really matter where we are from. We just we just love each other as human beings."
Speaking ahead of the concert Maher Nasser, the Director of the Outreach Division in the UN Department of Global Communications said: "When you look a group of eight musicians playing together and they are all reading from the same sheet of paper, they introduce harmony, and they are all equal. Some of them play cello and some of them are playing violin but the sound that comes out appears to be coming from one instrument. Every one of them is equal, every note is equal."