SDG stimulus could unlock $148 billion in debt savings: UNDP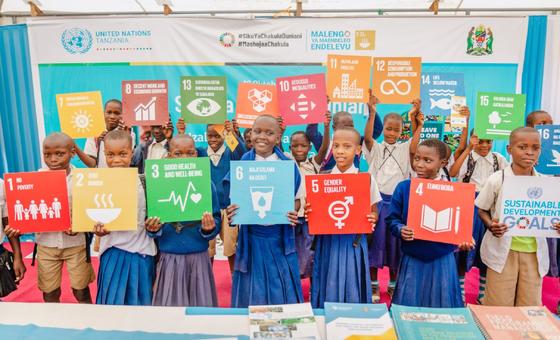 The report – Building blocks out of the crisis: The UN's SDG Stimulus Plan – was issued ahead of the G20 Finance Ministers and Central Bank Governors Meeting in Bangalore, India, which begins on Friday. 
UNDP has called for action to protect developing nations from the impact of today's overlapping crises while also ensuring that financing is aligned to support a just, inclusive, and equitable global transition. 
Transform global finance 
"The building blocks to transform the global financial system are already being discussed at the G20 – multilateral development bank reform, debt restructuring, and injections of liquidity – but with the fracture between developed and developing countries escalating rapidly, we need to move from words to action," said Achim Steiner, the UNDP Administrator. 
The policy brief identified 52 low and middle-income developing economies that are either in debt distress or at high risk of debt distress. Collectively, they account for more than 40 per cent of the world's poorest people. 
A 30 per cent cut in their 2021 public external debt stock could help to save up to $148 billion in debt service payments over eight years, according to the report. 
High debt burdens 
UNDP said 25 developing economies currently have external debt service payments higher than 20 per cent of total revenue – the highest number of countries in more than two decades – which impacts spending on essential services, including measures to adapt and respond to climate change. 
"The countries most burdened by debt and lack of access to financing are also being battered by multiple other crises; they are among the most affected by the economic impact of COVID-19, poverty, and the accelerating climate emergency," said Mr. Steiner. 
"The time has come to address the deepening chasm between rich and poor countries, to change the multilateral landscape and to create a debt architecture that is fit for purpose in our complex, interconnected, and post-COVID world," he added. 
SDG stimulus plan 
The policy brief revealed how "significant fiscal space" can be freed by expanding access to lower cost and long-term maturity funding – two of the focus areas included in the UN Secretary-General's Stimulus Plan for the Sustainable Development Goals (SDGs), launched last week. 
The 17 SDGs provide a blueprint for a more just, equitable, and "green" future, and have a deadline of 2030. 
George Gray Molina, UNDP Chief Economist, argued that developing economies simply cannot fund progress on the Goals, or climate commitments, if they are borrowing at up to 14 per cent while also paying more than 20 per cent of revenue for debt servicing. 
"The billions of savings identified by UNDP can only happen if we collectively agree that it is time to de-risk development and climate financing," he said. 
The brief further showed how an additional $120 billion in savings could be generated by "refinancing" the bond debt of middle-income countries to official creditor rates. 
It also highlighted the potential for lowering the cost of borrowing for investments aligned with the SDGs and the Paris Agreement on climate change.