Syria-Türkiye earthquakes: Food, shelter and medicines among latest aid deliveries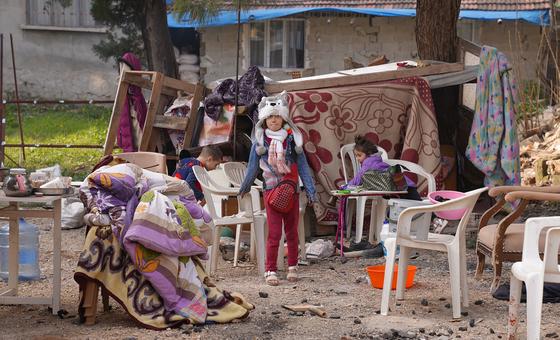 The trucks carried items from the World Food Programme (WFP), the International Organization for Migration (IOM) and the UN refugee agency, UNHCR, including food commodities, shelter, hygiene, and other supplies. 
Most of the trucks, 47, went through the Bab al-Hawa crossing and the remainder entered through Bab al-Salam, UN Spokesperson Stéphane Dujarric told journalists in New York. 
In total, 335 trucks or lorries have made the journey from Türkiye into northwest Syria since 9 February, he added. 
Medical supplies delivered 
Also on Thursday, the World Health Organization (WHO) shipped another 34.5 metric tonnes of surgical supplies and essential medicines through the two border crossings. 
WHO said a third charter flight landed in the Syrian capital, Damascus, on Monday carrying 33 tonnes of medical supplies and equipment to treat injuries, in addition to medicine for chronic diseases, cholera treatments and patient monitors. 
Another charter flight is expected to arrive on Friday with medical supplies from its hub in Dubai, which will be delivered into northwest Syria from Türkiye. 
A nearly $400 million humanitarian appeal for Syria is currently around 27 per cent funded.
Visiting affected people 
Meanwhile, in Türkiye, UN Resident Coordinator Alvaro Rodriguez travelled to areas affected by the earthquake, meeting with authorities and first responders. 
Mr. Rodriguez visited a tent city in Kahramanmaras, where 5,000 people have been taking refuge. 
"He said he was struck by the scale of the devastation, but praised the response by the Government, the international community, and Turkish citizens," said Mr. Dujarric. 
The top aid official was also in Turkoglu, where he spoke with Syrian families displaced by the earthquake. 
UN disaster assessment teams remain active in southern Türkiye to support the coordination of urban search-and-rescue operations and assist in the needs assessments.  
A liaison team in Ankara is also working with Turkish authorities, who are leading the response, said Mr. Dujarric. 
The UN launched a $1 million flash appeal to assist more than five million people in Türkiye for three months. As of Thursday, it was less than five per cent funded.