Yemen: Fresh negotiations conclude with release of 887 prisoners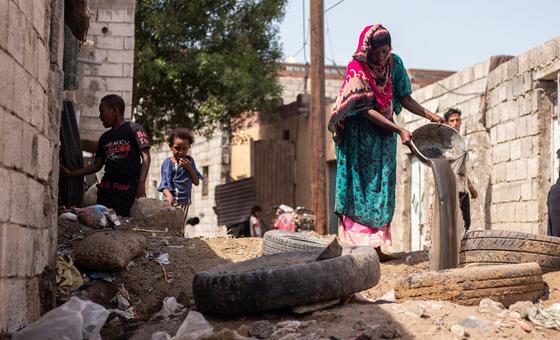 "For hundreds of Yemeni families, today is a good day," Special Envoy Hans Grundberg told reporters at a press conference in Switzerland. "Today, hundreds of Yemeni families can look forward to reuniting with their loved ones."
The Supervisory Committee on the Implementation of the Detainees' Exchange Agreement concluded the latest round of talks with several positive outcomes, he said.
"But, it is important to remember that, when the parties committed to the Detainees' Exchange Agreement, they had made a promise, not just to each other, but to thousands of Yemeni families who have been living with the pain of separation from those dearest to them for far too long," he said.
Successful negotiation round
The nearly decade-long conflict in Yemen – and the resulting massive, protracted humanitarian emergency – began in 2014 when Houthi insurgent militias first took control of the country's capital and largest city, Sana'a. After many diplomatic efforts, the parties to the conflict agreed to a truce in April 2022.
Following the latest negotiation round, the parties have agreed on implementation plans to release the detainees, and to reconvene in mid-May to discuss more releases. They further committed to exchange joint visits to each other's detention facilities and to enable access to all detainees during these visits.
Mr. Grundberg urged the parties to facilitate the speedy implementation of the releases, and to build further on Monday's outcome and agree on more releases.
The parties signed in 2018 the Stockholm Agreement, which outlined three areas for action: prisoner exchanges, a ceasefire, and civil society participation along the road to peace.
"I also encourage the parties to release additional detainees on a unilateral and ongoing basis," he said. "Today's outcome is a welcome development and positive progress towards the parties' fulfillment of their obligation under the Stockholm Agreement to release conflict-related detainees on an all-for-all basis."
Sustainable end to conflict needed
While the general landscape has calmed since 2022, concerns remain as Yemen grapples with economic challenges and parties work towards ending the conflict, which has displaced millions and left many families scrabbling for survival. In 2022, aid agencies assisted nearly 11 million people every month.
"Much remains to be done," he said. "A comprehensive and sustainable end to the conflict is necessary if Yemen is to recover from the devastating toll the eight-year conflict has had on its men and women."
Addressing the Security Council on 15 March, the Special Envoy had said much had been achieved over the past year, and now it is time for "the next step".
"The parties must seize the opportunity presented by this regional and international momentum to take decisive steps towards a more peaceful future," he said. "That requires patience and a long-term perspective, and this requires courage and leadership."