Sudan: New effort needed to restore civilian rule, transition to democracy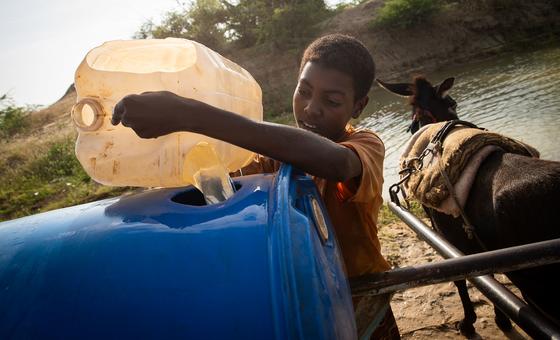 During an update to the Human Rights Council in Geneva, the UN rights chief highlighted the death on Tuesday of a 17-year-old demonstrator, shot dead by a police officer in the Sharq Alnil area of Khartoum, "one of 125 people to die since protests began over 16 months ago, one in five of whom have been children under the age of 18″.
Crackdown condemned
The ongoing violence has been led by opponents to the coup, which ended a power-sharing agreement between military and civilian leaders, that was established following the April 2019 overthrow of President Omar al-Bashir, who had ruled for 30 years.
UN-appointed independent rights experts have previously condemned the crackdown against anti-coup protesters, citing "continued reports of protestors being killed, forcibly disappeared, injured, tortured and subjected to sexual and gender-based violence."
Prosecutions key
"Prosecuting perpetrators, including high-level commanders responsible for these violations, is critical to ensuring Sudan's sustainable transition to a credible democratic civilian government", they added.
In January, Sudan's political parties began talks aimed at restoring a civilian-led transition, which the UN hailed as an important step towards peace and democracy.
Some 9,096 people have sustained injuries since October 2021, many of them life changing, from live ammunition, rubber bullets, tear gas cannisters and other weapons arbitrarily fired by the security forces, the High Commissioner also noted, as he encouraged Sudanese efforts to ensure accountability for human rights abuses.
"Genuine measures of accountability and transitional justice are seen by victims as a priority and, ultimately, a pre-condition for stability and democratic transformation," Mr. Türk insisted.
He added that "all those responsible" for rights violations and abuse must be held to account, "in accordance with due process and without unjustified delays." Reviews of emergency legislation must make sure that any amendments are in line with international law, he said.
Peace in Darfur
Turning to the Darfur region, where hundreds of thousands died during brutal fighting after 2003 between Sudanese Government forces, militia groups and rebel militia, Mr. Türk said full implementation of the Juba Peace Agreement was vital.
Vulnerable civilians still caught up in violence in the restive region, need security guarantees and political commitment, to resolve the underlying causes of conflict, he added.
"My Office stands ready to strengthen its support, including for legal and institutional reforms to promote and protect human rights, the development of a victim-centred transitional justice process, and to broaden civic space."
Peace dividend
He acknowledged that transitions were never straightforward, but "enormous opportunities" exist for progress in all areas "and for sustainable development that is more equitably shared."
"I stand in solidarity with the people of Sudan and wholeheartedly share their hopes and demands for genuine change, peace, democracy and justice", said the UN rights chief.