Ukraine: Over 1,500 children killed or injured, concern rises over forced transfers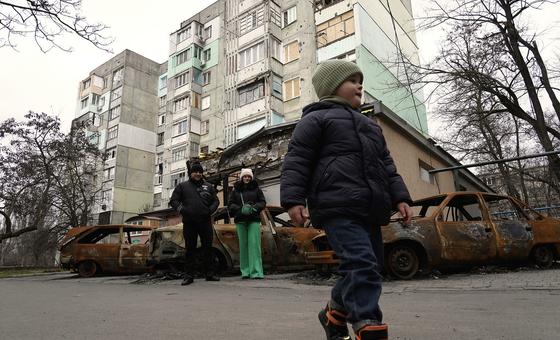 Russian attacks overnight, killed three people – including the girl's mother – and wounded 11 others, according to news reports. It followed a reported 17 strikes on the capital during May, and the fourth this week.
More than 1,500 killed, injured
Ms. Brown expressed her sympathy to the families of "over 1,500 children killed and injured in Ukraine" since Russia's full-scale invasion began 15 months ago. 
Ms. Brown added that the UN continued to follow closely reports of Ukrainian children being forcibly sent to Russia. 
'Heavy price'
The head of the UN Human Rights Monitoring Mission in Ukraine, Matilda Bogner, deplored on Thursday that "civilians, including children, continue to pay a heavy price" in the war.
"Behind every death there is an immeasurable human tragedy. This must stop now," she said.
According to UN monitors, six children were killed and 34 were wounded in the month of May alone.
Towns and cities under attack
The Mission said that a total 535 children were killed and 1,047 injured since the start of the conflict. A vast majority – 87 per cent – of the casualties were caused by "explosive weapons with wide area effects", including artillery, missile and air strikes, and "loitering munitions" also known as suicide drones.
The findings align with earlier warnings from the UN-appointed Independent International Commission of Inquiry on Ukraine about Russian armed forces carrying out attacks with explosive weapons in populated areas "with an apparent disregard for civilian harm and suffering, failing to take the required precautions".
"The attacks were indiscriminate and disproportionate, in violation of international humanitarian law", the Commission wrote in March.
Impact on health
Bringing even more evidence of the suffering of civilians in the war, just two days ago, the World Health Organization (WHO) verified the 1,000th attack on healthcare in Ukraine since the full-scale Russian invasion.
The agency said that this was the highest number it had ever recorded in any humanitarian emergency.
UN humanitarian coordinator Denise Brown also highlighted the "devastating impact" of the war on the mental health and well-being of children, "including millions who have had to flee for their lives". 
She pledged the humanitarian community's support to Ukraine's children "for as long as it is necessary." 
Mounting evidence of child deportations
The Commission of Inquiry on Ukraine said in March that cases of transfer and deportation of children which it had examined, amounted to war crimes. 
That same month, the UN's rights monitoring mission released a report documenting cases of children subjected to forced transfers, arbitrary detention, enforced disappearance, torture and ill-treatment.
The report called on Russia to ensure that any evacuation, including of children, is conducted in full respect of international human rights law and international humanitarian law, and to "adhere to the prohibition of changing the personal status of children displaced from Ukraine, including nationality, and of adoption" during or immediately after an emergency, in line with international standards.
Echoing the allegations, on 17 March, the UN-backed International Criminal Court (ICC) issued arrest warrants for Russia's President Vladimir Putin and Commissioner for Children's Rights Maria Lvova-Belova, in connection with possible war crimes concerning the deportation and "illegal transfer" of children from occupied Ukraine.